MEADE 6600 NEWTONIAN

We offer knobs for the Meade 6600 Newtonian. Select the type of knobs for your telescope from the list below.

A. Knobs for Meade 6600 Primary

Part:
M6600pri

Fits:
Meade 6600 f/5 telescopes.


Primary collimation

Knobs:

Black plastic, 30 mm (1-1/4") diameter, 5-point fluted

Threads:

Plated steel
Primary Lock

Knobs:

Black plastic, 25 mm (1") diameter, knurled

Threads:

Stainless steel
Notes:
If your primary looks different from our photograph, or already has

factory collimation knobs

, these knobs will not fit.

The telescope optical tube assembly will clear the rocker box with primary knobs installed.

One of the primary mirror knobs may interfere with the cooling fan connector. The plug will

fit properly between the knob flutes

, so leave this one knob stationary and collimate using the remaining knobs. If desired, you can leave the factory collimation screw that is next to the fan connector in place.
$29.95


_______________________________


B. Knobs for Meade 6600 Secondary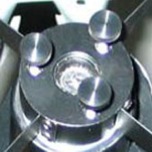 Part:
CNsec35

Fits:
Meade 6600 f/5 telescopes.


Knobs:
Black plastic, 13 mm (1/2") diameter

Threads:
Stainless steel


$20.95