VIXEN VC (CASSEGRAIN) SERIES

The knobs below will fit all versions of the Vixen VC200L Cassegrain secondary. Price is for a complete set of knobs.

A. Knobs for Vixen VC200L Secondary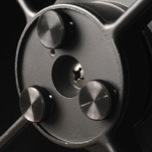 Part:
VC200sec

Fits:
Vixen VC200L secondary
Knobs:
Black plastic, 16 mm (5/8") diameter

Threads:
Stainless steel


Notes:
The factory dust cover may interfere with Bob's Knobs. A shower cap can be used as a substitute cover.

Our knobs sit very close to the secondary housing. However, if the knobs contact the secondary housing before the screws reach the secondary mirror, we can supply knobs with longer screws at no charge. Contact us using the link at the bottom of this page.

These knobs will not fit the VMC200L, which requires

these knobs

.
$27.95